Welcome!
ONLY a Few Days Left for Pre-Order bonus items!!!
Big news in the Dispel camp, we are beyond happy to announce we are taking pre-orders for our long awaited 'INFERNO" LP and the 'Past the Gates' EP!
Inspired by the literary masterpiece 'Dante's Inferno'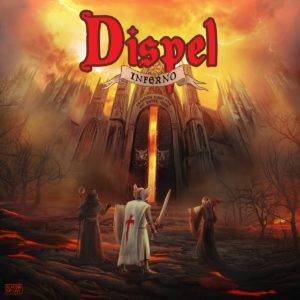 ART BY KLAUDIA BEZAK
1. Journey into Limbo –
5:33
2. Dispater's Lust –
5:54
3. Bog of Gluttony –
6:09
4. Flames of Greed
– 5:12
6. Glasya's Heresy (Acoustic version)
– 4:37
7. Rings of Violence
– 4:36
8. Citadel of Fraud
– 4:15
9. Cistern of Treachery
– 7:35
"A SOUL ASSAILED BY COWARDICE
WEIGHS SO HEAVY, IT DISTRACTS
Scott Dispel
– Drums & Keyboards
Sean Gallows
– Vocals & Bass
Leonard (Maldurin) Kemenani
– Guitar
Jamie (Valkyrie X) Baisden
– Bass
Joe Cilento
– Acoustic Guitar
Kieth Farquharson
– Production (Special thanks)
Mastered by Martin 'Attrition' Bowes @ Cage Studios UK
'Past the Gates' EP!
The 'Past the Gates' EP features songs and mixes that will not be on the "INFERNO" LP!
As a BONUS we are including the 'Past the Gates' EP Digital Download with every Kickstarter Pledge!
Past The Gates EP
Journey into Limbo (Darkwave mix)
Rings of Violence (Flamenco mix)
Glasya's Heresy (Rock mix)
Escape the Inferno (Feat Barry Gelderblom)
 We are beyond excited to share our most ambitious album to date, "INFERNO"!
_____________________________________________________________________________________________________________________________________________________
KICKSTARTER
We are offering some great bonus items with the pre-orders available only through the Kickstarter campaign.

On Kickstarter only, we are including some FREE stretch goals for some great band Swag!!!
All Physical KickStarter Pre-orders (CD or Vinyl) will include a FREE:
Dispel Guitar pick
Hologram Trading card (art by Barry Gelderblom)
4″Dispel Iron on Patch
An Epic Quest into Dante's 9 Hells!
There are no comments yet, add one below.