Save 50% on Dispel's Digital Box set- 72 hours only!
Days Hours Minutes Seconds
This offer has now expired.
"Discover all 5 of our Music Releases in one Digital Box Set at 50% off! (But hurry , time's running out)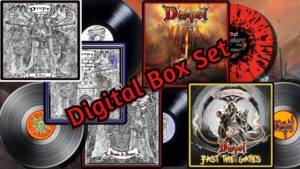 Hey There, fellow music lover!
Over the years we've always aimed to create the music we most wanted to hear. Music that tells a story, rocks hard and inspires the imagination! We've worked tirelessly to acomplish this, and today it's our honor to present to you our five kick ass studio releases (if we don't mind saying so). Each one telling a different story of our musical journey.
And now for a limited time only, we're giving you a chance to own our entire discography for an incredible 50% off – all bundled in one epic digital boxed set. This sweet deal is our way of saying 'Thanks' for your amazing support. We can wait for you to join us on this music adventure!
What you'll Get!
The Goddess EP 2018 – Our very 1st release. The premier of Berklee School of music's Ravensea. Her voice would put us on a path we never could have imagined. Featuring singles from our Conceptual album 'LORE', based on the Hero's Journey archetype. Includes our 1st music video single 'Modal Consequence' (a quest for the sword of knowledge) and a bonus track "Journey into Limbo', from the forthcoming 'Inferno' LP.
LORE (LP) 2020 – Our first full length album, Nine songs produced by witchhouse legend Mike Textbeak. This musical adventure takes one through the various stages of the mythilogical Hero's Journey, and the challenges and tests we all must face to achieve our higher potential. This album features the song 'Temptation' our second music video (filmed at the Amasa Stone Chapel) and 'The Call' ( to Adventure). Includes some atmopsheric Choral chant, akin to dungeon synth. Mastered by Martin Bowes in the UK!
Demos & Remixes (LP) 2021 – Features unreleased song versions from our first 3 years as a band. We invited a few producers to remix our songs, including Chicago's PLVGUES doing a remix of 'Gift of the Goddess', an amazing witchhouse take on our  song. This also features the Destructive remix of 'Modal Consequence' and demo and extended song versions not available anywhere else!
Past the Gates EP – 2022 – A refined sound, expanded imagery and art for the band. We feature two guitar virtousos on this EP, one acoustic and one shredding metal instrumental! Features song versions not released on the 'Inferno' LP. This EP is  akin to a musical dungeon crawl, across the River Styx.
Inferno LP -2023 – "Abandon hope all ye who enter here!" Our most challenging album to date. We boldly invite you to take a music journey into Dante's Infero. A literary masterpiece, now an epic conceptual album! Join Ravensea as your tour guide, through the forbidden nine hells and the temptations and torments that await. Until we finally enter the domain of the fallen angel himself! Is all hope lost..!? Featuring the epic gothic rock acoustic version of 'Glasya's Heresy' (music video filmed in South Africa).

But don't take our word for it- Listen to what others are saying about our music…
 "Dispels' creation is dark and delicious, otherworldly, dangerous, populated by mystical beasts and exotic characters, magic, mayhem and mystery. And I, for one, like it. I like it a lot…" Dave Franklin – The Big Takeover

Their efforts paid off: the result is an album that takes the listener on a journey through the shadow realm, confronting the seven deadly sins, and tapping into mysteries. It's a fabulous collaboration of talents, theatricality, and intellectual pursuit. Post-Punk.com Alice Teeple
"Full of thunderous emotions, eternal escapism and eerie enlightenment. Like sorcerers of the soul, Dispel provide a beacon of light in the shadows of gloom-rock." Themancreview
This Smoking hot 🔥 deal of 50% on the complete digital boxed set, won't last forever. So make sure you act fast before the timeout counter hits zero, and the offer goes Poof!
Click here to snag your 50% off Digital Boxed set now!
Days Hours Minutes Seconds
This offer has now expired.
Upon check out you'll be immediately taken to the 'Thank you page' with your music DOWNLOADS!
Thank you for joing us on this Musical adventure! YOU ROCK!!!